Father's Day 2007.........
The posting below is reprinted from Steady Habits of 8/31/06. I return to this subject reluctantly but wish to keep interested folks updated and encourage others in similar situations to never give up hope. "A" this day coincidentally, entered a detox facility for the umpteenth time; this time as a means to get a spot in a long term residential program. She has been waiting several months for a spot to open up without any luck. However, by entering through a detox program she anticipates being able to go within a few days to a long term facility. "A" was in a residential program for several weeks last year but yielded to temptation during a short out of house trip and left with another woman to get high. She was dismissed from the program. Since then she has remained clean, as far as I can tell, been living with friends and going regularly to meetings. Her mother and I are somewhat buoyed by her attitude that it's now or never; that she can finally beat this demon. This Father's Day finds me encouraged and tentatively hopeful.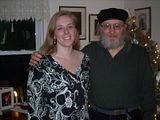 THE SCOURGE OF HEROIN:
A DAUGHTER'S STRUGGLE,
A FATHER'S DILEMMA
---
My 30 year old daughter has been a heroin addict for around 10 years. Of course, she's had some periods of time when she was clean. I think she started mainlining in Seattle (no surprise, bad heroin scene there) and got badly strung out there. We, her mom and I, got her back to Massachusetts where she did really well for a while, had a good job etc. She's been in de-tox several times and until recently was in a program with weekly meetings and medical help with a heroin antagonist (not methadone but a newer one, bupenephrine (sp?)I think). But the last 2 years she has been sliding back into the abyss; was arrested a couple of times for possession and, most recently, was last week arrested for violation of probation. (she had tested dirty). Anyway, now she is jailed without bail with her first court appearance on 9/18. Her public defender thinks she will probably get a mandatory 30 day drug treatment program plus assignment to a halfway house deal. But, she could also get a prison sentence.