On Duct Tape
We have long been a fan, and user, of duct tape, that ubiquitous tool and cure-all with myriad uses. We have used it to repair shoes, automobile mufflers, seating upholstery,clothing and more. Several years ago there was a flurry of interest in the product due to certain
Homeland Security Dept.
suggestions about its use in creating air tight safe rooms. Earlier this month there was the story about the female astronaut going ballistic over a presumed love rival. We were surprised that duct tape was not included in her arsenal and equipage. However, this lead to
yesterday's news
that duct tape was indeed part of astronauts' tool kit and, in the event of an astronaut crackup, could even be used to "bind his (or her) wrists and ankles with duct tape, tie him down with a
bungee cord*
and inject him with tranquilizers if necessary."
Our interest piqued, we looked for updates to the Duct Tape Story. We did not have to look far. There is a
Duct Tape Nation
, the
Duct Tape Guys
and other web sites devoted to the humor about, and the love of duct tape. There are on line tutorials for making
duct tape portraits
and even a video on how to make a
duct tape wallet.
To buttress the case that some folks are spending too much time on duct tape there is this:
Alaska's 8th Annual Duct Tape Ball
.
*This opens up a new area of research: "
On Bungee Cords
"!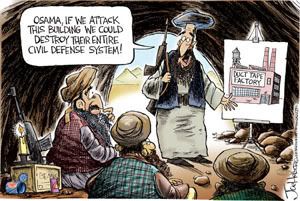 Tags: astronauts,duct tape,crafts,bungees,duct tape nation,ductapeguys,homeland security,civil defensed,safe rooms