Happy Birthday Ronald Reagan!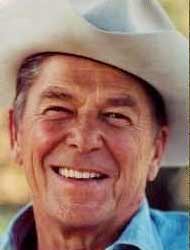 Born 96 years ago today, his true conservative leadership is sorely missed. (Favorite Reagan quip: "I'm here from the government, and I'm here to help.")
Who will carry on his legacy? It's hard to tell in the pack of RINOs we are currently burdened with.
Special edition of Mark Levin radio show 2/06 featuring audio of the great speech by Reagan for Barry Goldwater 10/27/64, transcript here.

---


More proof that liberal/progressive talk radio sucks!
From Radio Equalizer
Liberal Talk Radio Blog
With today's news that its programming will be pulled from New Haven's airwaves, it appears even that bastion of campus radicalism can't support so- called "progressive" talk radio.
With little fanfare, Connecticut's "The Voice" 1300, also known as WAVZ- AM, pulled the plug on Franken, Rhodes & Co. and flipped to ESPN Radio.
Also taking a hit in the move are non- Air America libtalkers Stephanie Miller and Ed Schultz.
---
US should weigh war on terrorism tax - Lieberman


WASHINGTON, Feb 6 (Reuters) - Sen. Joseph Lieberman
said on Tuesday
that Congress should consider a tax to fund the U.S.-declared war on terrorism and reduce the need to cut domestic programs to pay for security spending. A former Democrat who supports the Iraq war and backs President George W. Bush's plan to send 21,500 additional troops to Iraq, Lieberman said the proposed increase in the Pentagon's budget for next fiscal year will squeeze funding for critical domestic programs. "I think we have to start thinking about a war on terrorism tax," the independent Connecticut lawmaker said. "I mean people keep saying we're not asking a sacrifice of anybody but our military in this war and some civilians who are working on it."
Tags: Ronald Reagan, Mark Levin,Barry Goldwater,Talk Radio,New Have,Franken,lieberman,iraq war, taxes,