RUMORS OF WAR WITH IRAN
Time magazine
in the issue dated 9/25/06 features an angelic looking Mahmoud Ahmadinejad on the cover. The article focuses on pending U.S. Navy fleet movements to the Mid East and the possibility of war with Iran. Rumors are circulating regarding a possible naval blockade in the Gulf of Hormuz to prevent Iran from obtaining critical supplies of gasoline. We reported on this subject last June in the article below:


The Gasoline Bomb Aimed at Iran!

Although Iran is a major oil producer it has a relatively small domestic refining capacity and must import around a third of its gasoline from various countries. Major efforts are in the works to expand the production of gasoline but such improvements take time. Time, however, is not on Iran's side as the international community considers sanctions in response to Iran's intransigence relating to uranium enrichment. An embargo on gasoline imports would certainly lead to civil unrest and could bring down the regime.




Iran imports gasoline from countries including China, India, and Brazil. The Iranian people enjoy government subsidized gasoline at some of the lowest prices($.40/gal) in the world. Rather than increase the price to offset increased consumption the regime has announced rationing to start later this year.

"...if and when imposed economic sanctions hit Iran, gasoline imports could halt and the result would definitely be civil unrest. (and) While Iran is one of the world's largest oil exporters, its daily consumption of more than 60 million liters of gasoline has turned Iran into one of the largest gasoline importers in the world."

Other Iran news: Iran's National Orchestra in "Nuclear" performance



TEHRAN, Aug. 25 (Mehr News Agency) -- Iran's National Orchestra will be performing the symphony "Nuclear Energy" composed by Kambiz Roshanravan at Tehran's Vahdat Hall on August 27 in a program which President Mahmud Ahmadinejad is scheduled to attend.

The orchestra conducted by Farhad Fakhreddini is also slated to perform Ruhollah Khaleqi's memorable work "O Iran" and Iran's National Anthem during the program, which has been arranged as part of the activities for Government Week (August 24-30).

Singer Alireza Qorbani will accompany the orchestra, which is currently rehearsing for a series of concerts in September.
Islamic Republic News Agency
Cartoon of the Week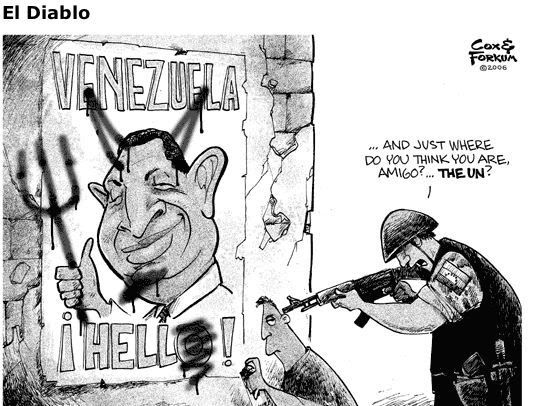 Politicized Arizona 911 Memorial
Arizona blogger Espresso Pundit reports on his shock at finding the newly unveiled 911 memorial in Phoenix contained politically charged slogans cut into the metal. The memorial contains a timeline of sorts with dates and descriptions of events having nothing to do with the 911 attacks and are clearly political in intent. Examples: "You don't win battles of terrorism with more battles"; "07 01 02 Erroneous US Airstrike Kills 46 Uruzgan Civilians"; "06 03 02 Congress Questions Why CIA & FBI Didn't Prevent Attacks". Unbelievable! More at:
Espresso Pundit
and
East Valley Tribune (AZ)